Local & USA Missions Supported
Peter DeArruda, Dennis Edleblute, Steve Kulish, Sam Rust, Shannon Rust, University of Valley Forge, Teen Challenge, Chalybeate Springs Ministry, Foundations Christian Academy, Love INC., ReNewing Hope, Teen Challenge, Breezewood Trucker/Travelers Ministry, Benevolence Fund, Everett Food Pantry
Missions Supported Abroad
Douglas Baldwin, Kevin Barner, Omar Beiler, Ray
Bradbury, Samuel Brelo, Richard Farthing, Doug Favuzza, Kevin Folk, Jerry Foster, Fred Howsare, Ron Jones, Daniel Klaehn, Peggy Lamb, Patrick Maher, Sam Mayeski, Robert Lee Rogers, Dennis Seler, Reginald Stone, Arthur Stoneking, Brian Thomas, Jeff Wiles, Mary Jo Wiley, & Richard Wislocky, Jeff Zito
To Learn More About Assemblies of God World Missions go to
Missions Trips
In addition to financial giving to foreign, U.S and local missions work, EAG participates in missions trips, including NYC and Haiti.
Local Outreaches
We believe churches should also reach out to our local communities. We have a mission in our own back yard, too!
Dinner and a Movie
EAG hosted a FREE "Dinner and a Movie" event with upwards of 150 in attendance. In addition to sharing a spaghetti dinner and the God's Not Dead 2 movie – which was an eye opener – we also raised approximately $1200 for the Pucusana Children's Project in Peru through the generous donations of those who attended. EVERYONE WAS WELCOMED whether or not they donated. We are here to serve our community!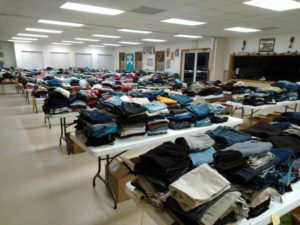 Clothing Giveaway
Reached up to 500 people with much-needed clothing along with a nourishing lunch. We thank God for His blessing on this endeavor.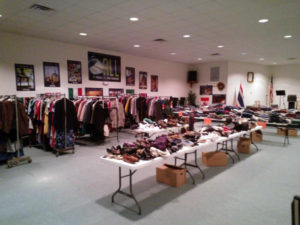 Other Outreaches
Remnant Youth participates in local block parties and other outreaches, and our Worship Team participated in Music on the Square in Bedford. Several from our EAG community played parts in Heaven's Gates and Hell's Flames. Some of our church family ministers in a local band called Sunday Afternoon.