What is MEGA Sports Camp?
It's a Vacation Bible School Alternative
At MEGA Sports Camp kids get to play a sport and learn about Jesus. Everett Assembly has held MEGA Sports Camps every summer since 2007 with registrations of over 100 kids.
What Happens At MEGA Sports Camp?
Sports, Bible Stories, Energetic Music, Team Huddles and More
We start with an opening rally and then break out into individual sports. Throughout the 3-hour evening kids enjoy 2 more sports breakouts, team huddles, music put to motion, ultra-cool object lessons, snacks and prizes.
On Friday, kids invite their family to enjoy the camp experience and great food and fellowship!
What Sports Are Available and What Ages?
Choose From a Wide Variety of Sports For Ages 3-12
Basketball, Cheerleading, Soccer, Volleyball, Flag Football, MSQUAD,
Sparks 5 and Sparks 3/4.
What Is the Cost?
MEGA Sports Camp Is Affordable
Our desire is to serve and bless our community, so we keep the cost at a minimum. Area businesses and people from the church graciously help by donating some of our supplies.
The cost is only $5 per child for the entire week and includes a camp T-shirt and a hearty snack each evening. On Friday, food is free to the entire family.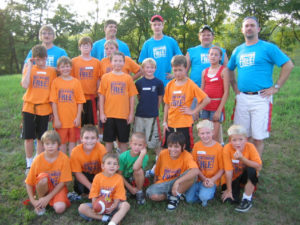 ♥♥♥
Click Here for our 2023 MSC Registration Form
♥♥♥
♥♥♥
Click Here to View our MEGA Sports Camp Gallery
♥♥♥
2019 Theme
FUNdamentals
Ready, set, go build the wall
I Will Choose to Be Unstoppable
Fear less, build more
I Will Trust My Training ImPOSSIBLE Results
I Will Celebrate My Wins
Celebrate the win
"Through the Years"
2007 through 2019